Leg warmers & lycra at Flashdance
Leg warmers, lycra, shoulder pads and pumping tunes; these are the iconic items of the 80s and when it comes to movies there is none more iconic than Flashdance. For every wannabe dancer like me, Flashdance was the movie that shaped a generation. Songs like "Maniac" and "What a Feeling" had us pulling on a leotard, perming our hair and dancing like crazy in our bedrooms.
So I jumped at the chance to have a child free evening where a could relive my youth, wear my un-sensible heels and drink cocktails.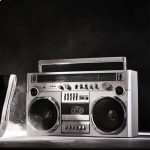 We all gathering in the Thorne Travel meeting room where we were offered bubbles or a cocktail, oh yes please, both thank you. The first chilled glass slipped down far too easily so it was easy to accept the second. As we headed onto the coach I had that light buzz that you get from daytime drinking and I was hungry, very much looking forward to the Italian meal that Thorne Travel had pre booked for us.
Once inside the garlic smells and authentic decor meant it was easy to understand why O so le mio was the restaurant of choice. The food did not disappoint either pasta dishes, oven baked pizzas and chicken dishes were served out and the chatter between the all women group was in full flow. The coach collected and dropped us outside the theatre door, no need to worry about the glamorous but unpractical heels then!
We were surprised to see a pink carpet at the theatre entrance. A few well dressed gentlemen and a camera crew occupied it. Unsure but unfazed we took the opportunity to walk the pink carpet stealing a photo opportunity whilst there.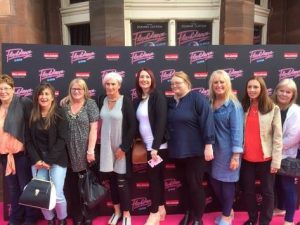 Just enough time to grab a drink and some munchies from the bar before taking our seats. Perfectly positioned in the centre stalls the grandeur of the theatre always gives me chills before curtains open.
As you would expect from a production like this the dancing was on point, the bodies were amazing (diet starts Monday) ,and the surprise for me, the vocals were outstanding! I had of course expected the dance aspect to be of good quality but the vocals from these multi talented actors was out of this world.
"Nick" was portrayed by the very handsome A1s Ben Adams who manages to convey the boyish charm of the character to perfection. As expected "Alex" was played by a hot dancer Joanne Clifton and her moves and her acting ability took me back to the nostalgic 80s and made my heart sing.
As a flashdance superfan who proudly confesses that I watched the film over 150 times, practicing the Maniac dance through my teens. I know that my fellow fans will love this production as much as I did.
A theatre night for me is always a welcome escape from life where for just a couple of hours I can "loose myself in the music and just be free". Click here to browse more great evenings we have available